ToShare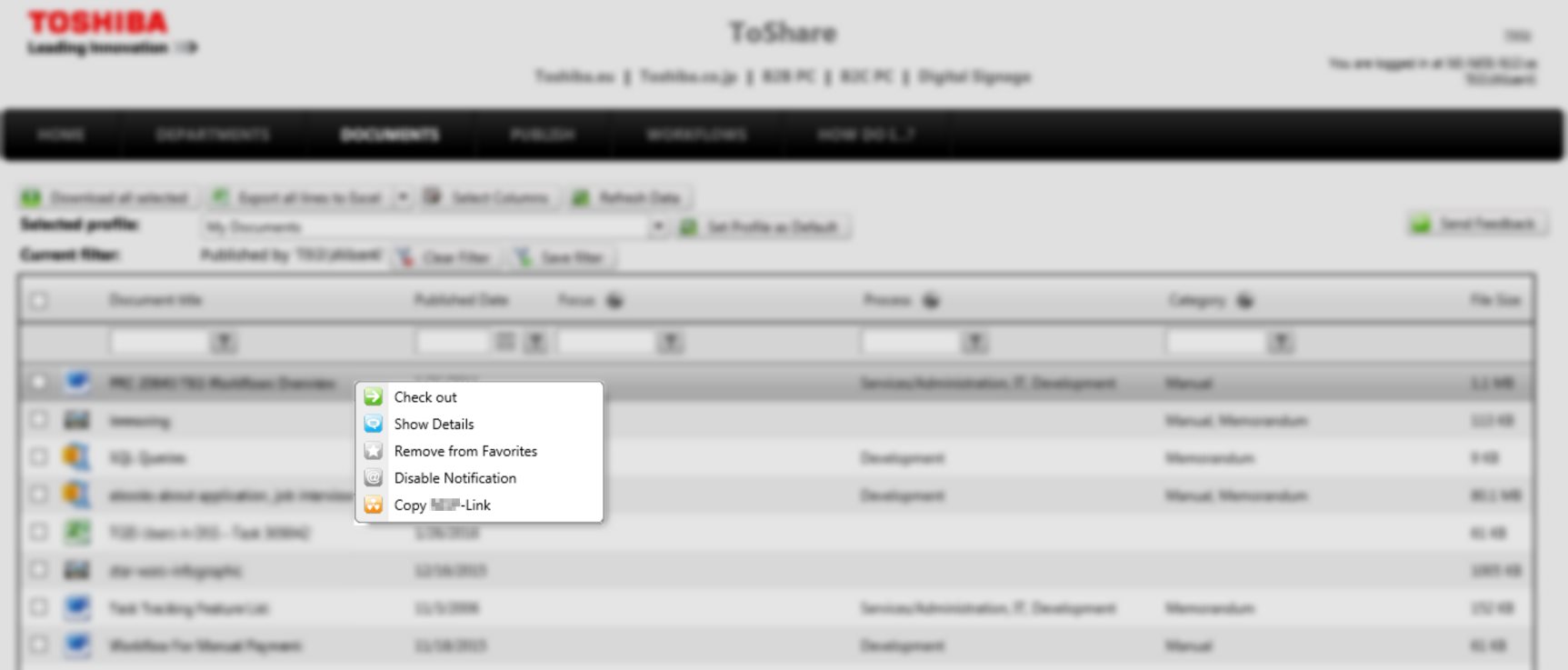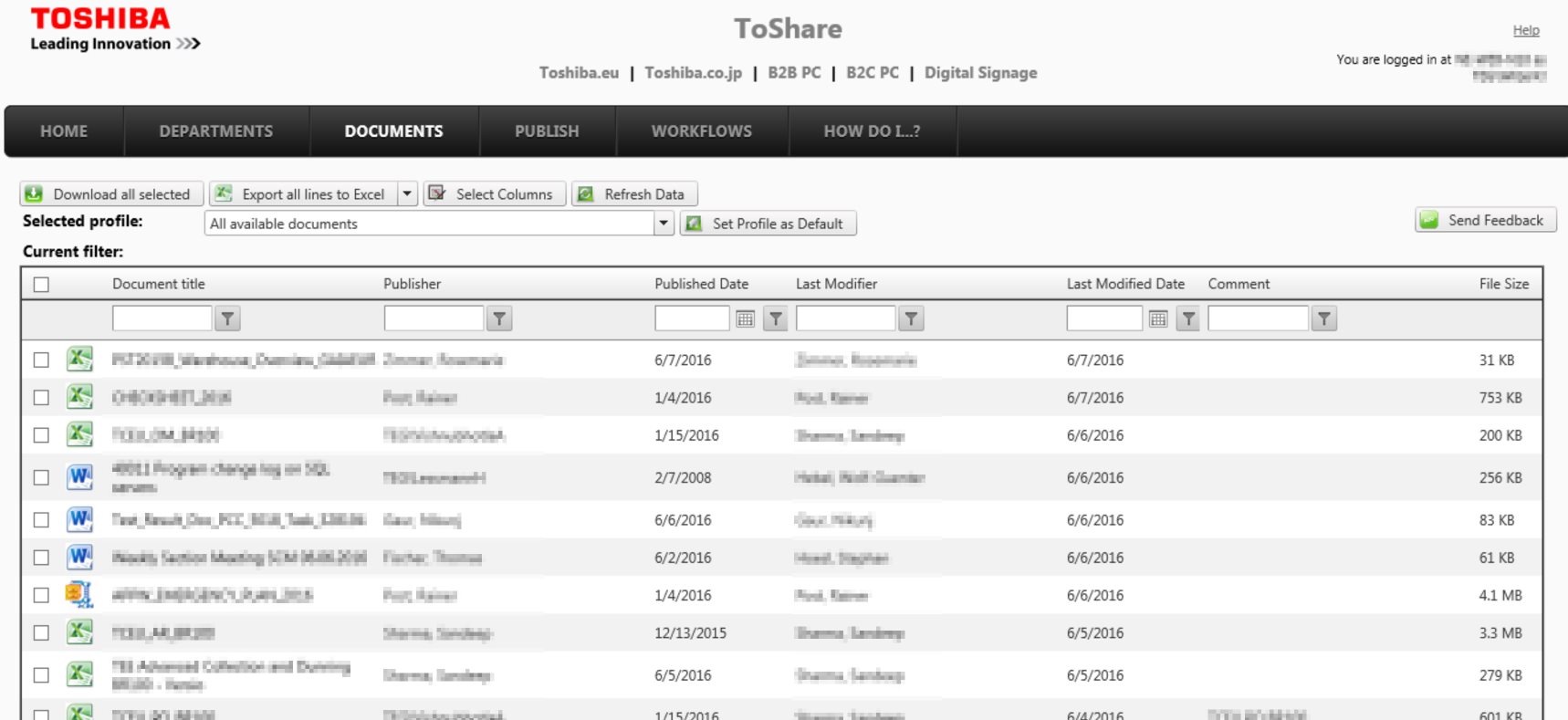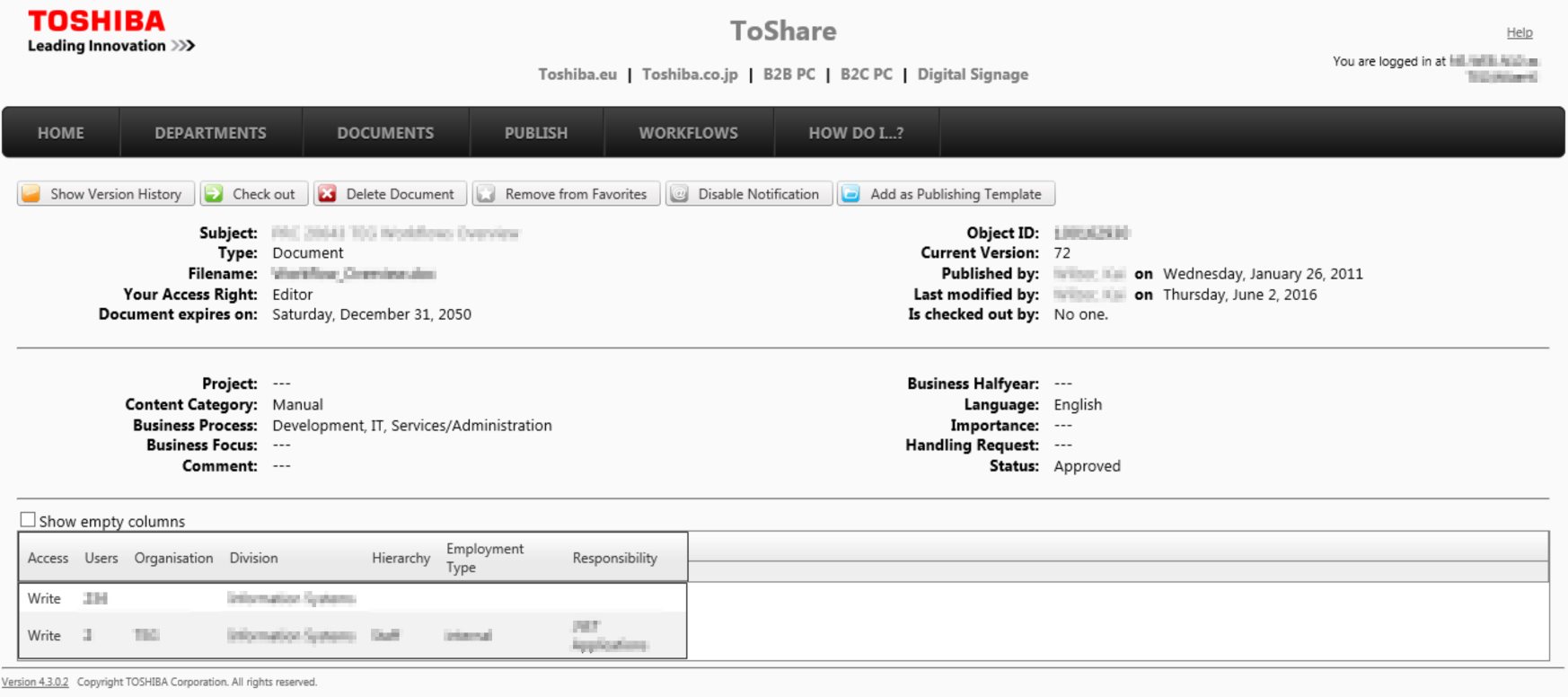 Die Anforderungen
Das bestehende Intranet wurde in den Jahren 2005 und 2006 von externen Programmierern nach Vorgabe erstellt. Es enthielt unter anderem einige Einschränkungen (z.B. die unterstützten Browser) die nicht mehr zeitgemäß waren. Nachdem ich für unsere Umweltabteilung die Seite https://epps.toshiba-teg.com/ erstellt hatte, setzte ich diese zunächst nur testweise und für einen kleinen Personenkreis auch alternativ für unser internes Dokumenten-Management-System ein. Dies sprach sich nach und nach herum so daß immer mehr EDV-Mitarbeiter diese neue Version benutzten.
Die Aufgaben
Schließlich kam unsere Marketingabteilung aus England auf uns zu weil unser Intranet attraktiver gemacht werden sollte. Von der bestehenden neuen "Testversion" waren sie begeistert, so daß wir diese als Basis nutzten und um einige typische Intranet-Funktionen erweiterten.
Die Funktionen
Die wichtigsten Anforderungen an unser neues Intranet waren:
Schnelligkeit
Übersichtlichkeit
Kompatibilität mit dem vorhandenen System
Benutzerfreundlichkeit
Einfache Erstellung, Bearbeitung und Publizierung von Dokumenten (Drag'n'Drop Publishing)
Europaweite Verfügbarkeit
Zugriffsrechte auf einzelne Dokumente
Zusammen mit der Marketingabteilung aus England habe ich dieses Projekt betreut und die Programmierung sowohl auf dem Webserver (ASP.net) als auch auf dem MS SQL Server übernommen. Wer mehr über die interaktive Online-Hilfe Hopscotch erfahren möchte darf gerne einen Blick in meine Postings Use LinkedIn HopScotch on ASPX Masterpages und Use LinkedIn Hopscotch with hidden elements werfen.
Leider darf ich hier nicht aus den Emails der Kollegen oder Vorgesetzten bis hin zum Präsidenten von Toshiba Europe zitieren, aber die Bewertung der verantwortlichen Kollegin des Marketings finden Sie auf meiner Proven-Expert-Seite:
I worked with Kai on a large internal communications project at my previous company. We were given a very tight deadline to introduce a new pan-European intranet – I was providing the brief from a comms point of view and Kai provided the technical expertise to build and implement. Through Kai's excellent communication, dedication and quick yet faultless work we were able to meet our deadline to deliver a tool which is still in use today and received positive feedback right from the top of the organisation.
Das neue System wurde sehr gut von den Kollegen aufgenommen und ist inzwischen die Startseite in allen Browsern der europaweiten Mitarbeiter der Toshiba Europe GmbH. Ebenso wie beim Task Tracking läuft auch das Intranet auch ein Jahr nach meinem Ausscheiden problemlos und wartungsfrei.
Description
TOSHIBA Europe GmbH

September 23, 2015